You know how sometimes, you get the sneaking suspicion that the universe is sending you a big, bold, messy message? That the world needs or wants you to hear that message, or to learn a lesson, or to bring forth one of your strengths or gifts?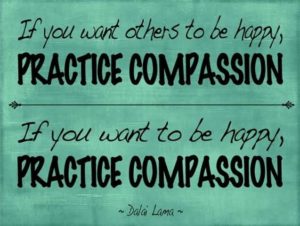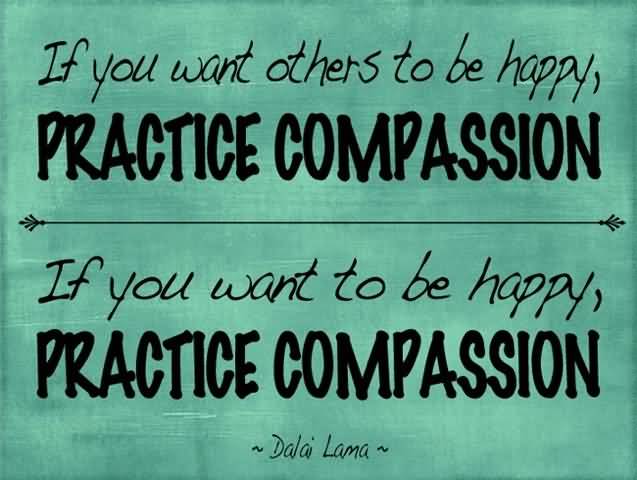 Yeah, so that's been my February thus far. And the through-line is just one word: compassion.
I like to think of myself as a compassionate person, generally. I do try to give people the benefit of the doubt, to act from a place of kindness and acceptance, to stay present. But, of course, I fail — we all do. I fail most often with those who mean the most to me; it's too easy to find my attention buried in a task or digital device, to tune out the voices of those in the house when they want to engage with me. Merely being present with those around us is one of the best ways to show our compassion. Presence says, "I'm listening. You are important. How is your heart today?" (Aside: This last question comes from Omid Safi's essay, "The Disease of Being Busy." It's delightful.)
So the world sends me these nudges that hammer home to me the importance of practicing compassion.
For example, the world's sweetest, most gentle black lab puppy showed up in our neighborhood last week. He took an interest in all of us — my family, our neighbors, our dogs. Eventually, I caved and pet his sweet face, and he has been glued to my side almost constantly since. He has heartworms; he's not microchipped; he needs a family. He just wants to be loved. And the universe says: Liz, it's time to practice compassion.
I turn on the news in the evening and I see the carnage of the day. An executive order or action that has brought pain and suffering to those in the world, and my heart just aches. But an achy heart does no good, so I instead channel this energy into speaking out, writing letters, looking for ways to spread compassion within my bubble. Eventually, I will find a way to identify and help local refugees who desperately need a kind face and an open heart. (If you know of a way I can help, please do tell me! I can't get anyone to return calls or emails.) With each newscast, the universe says to me: Liz, it's time to practice compassion.
A week ago, I had just one lone student come to my Saturday yoga class. She had every expectation that I'd call the whole thing off, but I saw no reason for us both to just leave without doing anything. So we had a quiet, peaceful Saturday morning yoga practice. At several points, she just couldn't stop herself from saying, "I'm so grateful you're doing this for me." But she needed a yoga practice, and I could clearly see that. The universe was saying to me: Liz, it's time to practice compassion.
An endless wave of students email me with messages about how they've caught the flu, have to get a car repaired, or have any number of other issues that preclude their best performance in class right now. It would be too easy to dismiss these students; instead, the universe compels me: Liz, it's time to practice compassion.
One thing I've noticed, though, is how compassion with others, almost by design, requires compassion with self. Kristin Neff is the expert on self-compassion (you can see her work here). Ultimately, compassion is about recognizing pain or grief, putting aside any judgment or critique, and doing what you can to nurture and support someone who is feeling pain or grief. Without compassion towards yourself, it's much harder to truly remain present for and supportive of the pain others feel. But how to find that compassion for self in a world that is chock full to bursting with shoulds? Kristin Neff writes, beautifully:
Self-compassion is a practice of goodwill, not good feelings. In other words, even though the friendly, supportive stance of self-compassion is aimed at the alleviation of suffering, we can't always control the way things are. If we use self-compassion practice to try to make our pain go away by suppressing it or fighting against it, things will likely just get worse. With self-compassion we mindfully accept that the moment is painful, and embrace ourselves with kindness and care in response, remembering that imperfection is part of the shared human experience. This allows us to hold ourselves in love and connection, giving ourselves the support and comfort needed to bear the pain. (Read more here.)
I just love this. At its root, compassion is about acceptance, kindness, and care. It's support. It's comfort. It's presence, recognition, and kindness.
Over and over and over again, compassion just keeps springing to mind. The world needs so much more of it right now, and I hope you, too, will listen to the universe asking you to spare what compassion you can… both towards yourself, and towards others.