John Nixon's memoir, Debriefing the President: The Interrogation of Saddam Hussein, begins with this explosive paragraph:
The rise of Islamic extremism in Iraq, chiefly under the rubric of ISIS (or Islamic State in Iraq and Al-Sham), is a catastrophe that the United States needn't have faced had it been willing to live with an aging and disengaged Saddam Hussein. I do not wish to imply that Saddam was innocent of the charges that were thrown at him over the years. He was a ruthless dictator who, at times, made decisions that plunged his region into chaos and bloodshed. However, in hindsight, the thought of having Saddam Hussein in power seems almost comforting in comparison with the awful events and wasted effort of America's brave young men and women in uniform, not to mention the $3 trillion and still counting we have spent to build a new Iraq.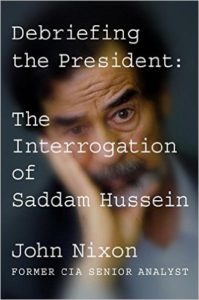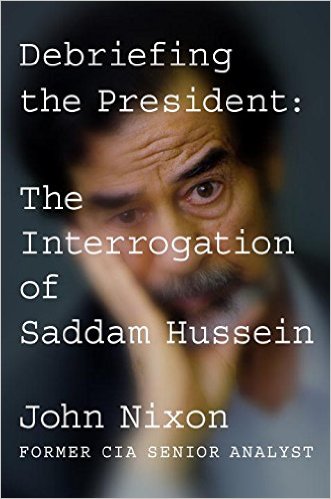 Nixon spent more than a decade at the CIA and admits he voted for George W. Bush — the president whose political beliefs pushed an eager-to-please intelligence community into finding weakly- or unfounded justifications for invading Iraq. He also admits to voting for Barack Obama, saying about John McCain: "While he had a lot more foreign policy expertise than Obama did, McCain was another shoot-from-the-hip kind of politician. I thought we'd had enough of that with Bush. As for Sarah Palin, my goodness, where would one begin?" Unfortunately, though, Nixon says Obama was uninterested in Iraq, as he saw the problems there as Bush's, not his; under Obama, things in Iraq got far worse, mostly due to American inattention.
His fair assessment of politicians across the political spectrum buys him a lot of credibility in my eyes. More importantly, his passionately patriotic insistence on a need for nuanced intelligence completely divorced from political whims is crucial. The great flaw of the Bush 43 administration's foreign policy was its need — nay, its demand — that the intelligence community be intensely pressured to find evidence that fit with Bush's black-and-white view of the world. Bush was impatient with complexity and nuance, and his foreign policy showed it. Incidentally, this conclusion is not one I've made after reading just a couple of books; it's echoed again and again in the writings of intelligence officials, political observers, and military men and women themselves. (For more, see the moving and provocative Eugene Jarecki film, Why We Fight (read about the film here; buy it on DVD here; stream it from Amazon here). It will make you mad — but in a very productive manner.
The more I read about the Middle East, the more I'm convinced that it's an issue too hard for political minds to tackle. Nor do I think that military minds should be in charge. We require thoughtful, considerate leadership well-versed in Middle Eastern relations, history, and culture. We haven't had that in any of our leaders in a very, very long time. And it shows.